Hi Everyone!
Long time no post - and with good reason! I just got back from my trip to Italy! I visited Rome - on business - and then took two side trips to Florence and Milan! I also managed to travel to the infamous SPACE outlet, which is the official Italian outlet for Prada and Miu Miu! Unfortunately, I was silly to pass up on two Miu Miu bags that cost 390 euros (thinking at the time it was expensive without doing research on Miu Miu prices) to find out later that they were in stores for 900+!!! I am definitely kicking myself and if any one of my dear readers ever hit up SPACE and is willing to help a poor girl out with lack-of-shopping remorse please message me - I will actually pay you! Hahaha but anyways this has got me wanting a new purse for everyday since I retired my Marc by Marc Jacobs Classic Q Hillier (after being in daily use for approximately 2 years) approximately 3 weeks ago.
So I am on the hunt for a new everyday bag! I haven't found anything yet that fits my requirements/liking as well as my budget.
Here are some bags that are on my bag wishlist - although they may not be very "everyday" like nor within my budget hahaha...
This one I saw in Italy for 1100 euros, which translates to ~$1400 CAN which costs $1700+CAN in Canada... This particular bag I was looking at since January and I still lust for it. I also went to Prada in Italy 5 times to look at it, yet I didn't buy it cause I felt guilty cause I'm not making as much as I used to... but in hindsight I kind of wish I bought it cause I would have got 12% VAT tax refund on the 1100 euros making it ~$800 cheaper than if I were to buy it in Canada. I absolutely love the colour... and I know after this season this colour is no longer going to be produced... :(
Prada Saffiano Luxe Tote
I never really liked this Louis Vuitton "Alma" style in Monogrammed Leather, but once I saw these colours in Epi Leather I made the exception to put them on my wishlist. Though these bags are quite steep in terms of price - steeper than the Prada bag! Thus, they will only remain on my dream wishlist and not my save-super-duper-hard-skip-meals-work-extra-off-jobs-and-put-more-hours-in-at-work wishlist.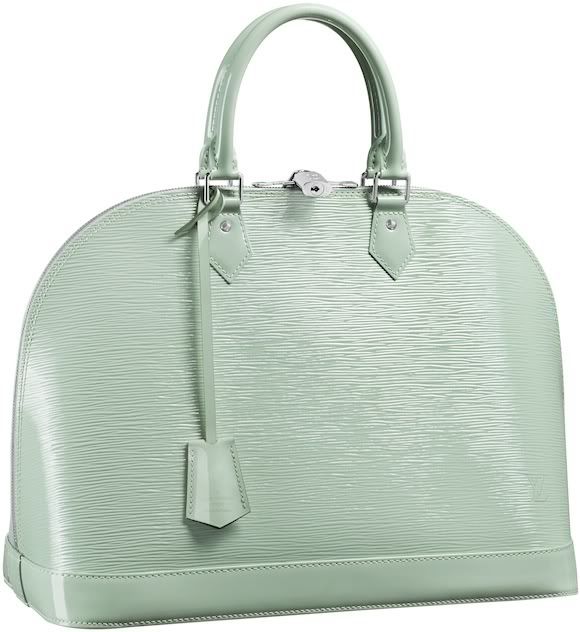 LV Amande Electric Alma
LV Indigo Alma
This was the bag I was going to buy in SPACE for 390 euros and then stopped... for what reasons I have no idea. I was crazy! :( *the one that got away* Though the one I was going to purchase was more blue-grey in colour. - Does anyone know if this is at the Prada Outlet in NYC Woodbury?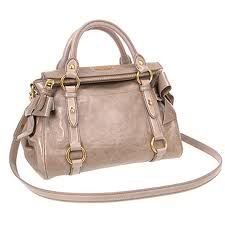 Miu Miu Mini Bow Satchel
I've been looking at this bag for awhile (and now it is on sale on ssense.com) but I'm still on the fence whether or not the bag will look good with outfits cause I find the shape slightly bulky...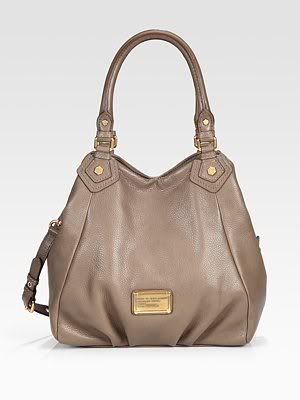 Marc by Marc Jacobs Fran
I love the leather (I am in love with saffiano leather...) and the colour of this bag, but this tote was just too big for my liking, though I just stopped by Holts today and they just released a smaller one (but was unable to find the stock photo).
Michael Kors Large Lacquer Pink Saffiano Tote
I'm also crazy addicted in love with things with studs - hence it should come as no surprise that I am lusting after Alexander Wang's Rocco Bag! Though this is a lot of money and I'm worried that my obsession (literally obsession) with spikes and skulls may dissipate, my logical self is telling me I shouldn't buy it/wish for it.
Alexander Wang Rocco
I also adore Chloe's Paraty bag!!! I think it's pretty cute and perfect with the short and long straps! Super functional and cute!!! It also kind of looks like a nose to me though @___@ but hahaha nonetheless cute!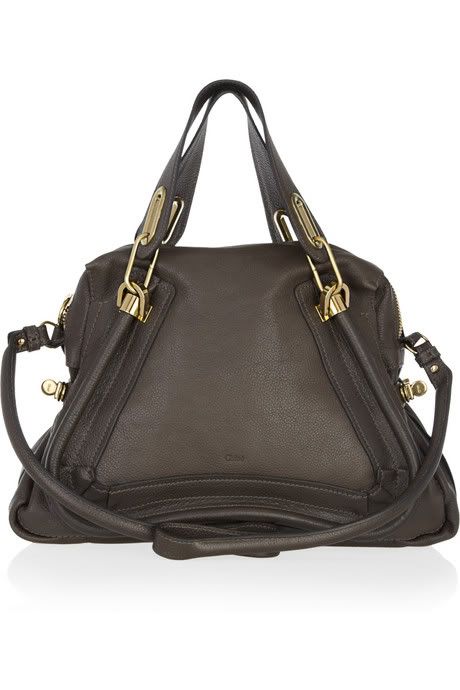 Chloe Mini Paraty Bag
Lastly, I saw this bag in the sales table at Holts today - It normally retails for $1195 and is on sale for $699... I put it on hold and left the store. The sales associate even called me back at store closing to see if I'd claim it but I missed the call. I know tomorrow morning it is going to be put back on the table since I didn't purchase it and it's a sales item but I can't get over the $700+tax price, especially without doing my research (which is also why I didn't buy any purses at SPACE - stupid stupid stupid - next time I go - NO THINKING !!! ><) I talked to one of my friends and she said I should buy it (LOL what an enabler - that's my job!) and if I change my mind I should sell it. Normally, I'd ask my mom if she thinks its a good idea, but I just recently came back from Italy (with the respective haul to match - but with no designer purses X___X) so I know her answer... What do you guys think? There's a 24 hour full refund policy... It's more pricy than Marc by Marc Jacobs since it's from Marc Jacobs' higher end label Marc Jacobs. PS: I love the colour too >_<''
Marc Jacobs Small Fulton
Oh! And of course what bag wishlist would this be without the infamous Chanel Jumbo Caviar Flap? A girl can dream! LOL my mom always says - with taste like yours, how do expect to find a boy who's going to even get near you? (My answer is always - I'll just work harder!!! Who needs boys??? - I have yet to think of a witty come back.)
Chanel Jumbo Flap in Caviar Leather
With love,
elle xx