Hello there!
So recently I went on a business trip with my father - and it was to Rome! The business trip lasted for 3 days, but we extended our trip 4 more days and visited Florence and Milan as well (since we flew all the way there!) Unfortunately the entire time we were there, it was raining - with brief periods of sunshine! Nonetheless, it was a very fun - but fast paced trip! And as always, I took pictures!!!
Anyways, here are a selection of pictures from the first city we visited - Rome! Most of the sight seeing was done in a night and one day since majority of the time we were meeting with fellow colleges. Rome is a very small city which can be walked from one side to the other in an hour or so. So within a span of 24 hours we were able to see majority of the top sights in Rome!

Rome is an amazing city. The juxtaposition with history and modern architecture is intriguing! You can literally have a brand new (relatively new to Italians - old for Americans!) building right next to something that's over a thousand years old! The city is super busy and chaotic too - very much different than the brand of city we are accustomed to in New York City or Toronto. All the cars are much smaller - a characteristic of Europe - and the drivers in Italy are crazy! They park wherever they please (literally I've seen cars parked in the middle of the sidewalk!) and never heed to traffic markings. I think at one point I saw 3 cars driving down a 1 lane road!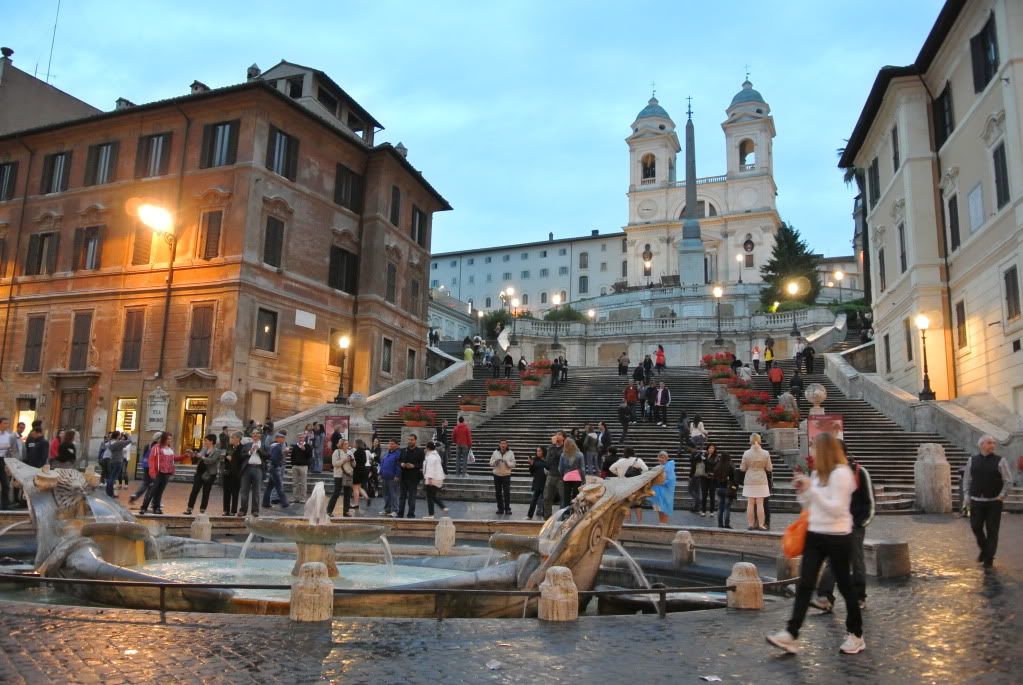 The Scalinata (Spanish Steps) & Trinta del Monti - Where majority of the upscale shopping in Rome is located.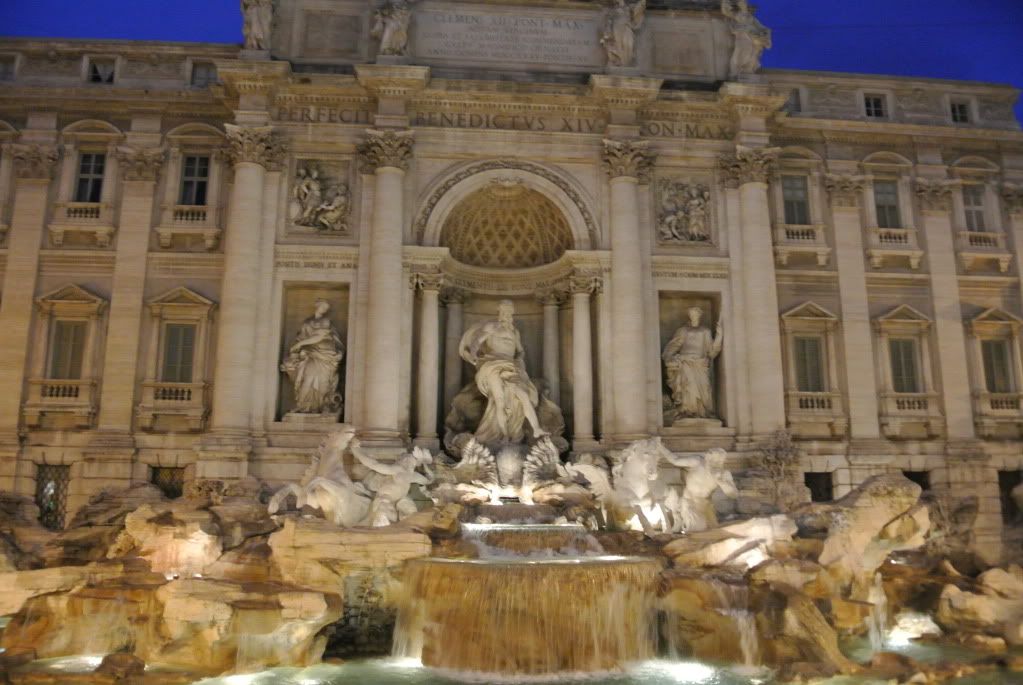 The infamous Fontana di Trevi - It was historically built at the cross section between 3 aquifers but now is a popular tourist location due to the Coin Legend! If you throw 1 coin into the fountain you promise a return trip to Rome. If you throw 2 coins you are promised to find love. If you throw 3 coins - you're destined to be married! At time I was unsure of how the coin legend worked and unknowingly mimicked someone throwing 3 coins in! Hahahaha.
Real Italian Pizza - I find the pizza crust in Italy is a lot thinner and harder to cut (especially in Rome, opposed to other cities) than American pizza. But you can taste the wholeness of the ingredients used in the pizza - and no after taste (probably due to the lack of genetically modified organisms and pesticide use in Europe).
Pasta!!! Good old pasta. It was delicious! It is traditional to have two entrees in Italy - one being a pasta plate and the other being meat or something of the sort. I had pasta everyday for every meal for the entire week! I'm pasta-ed out!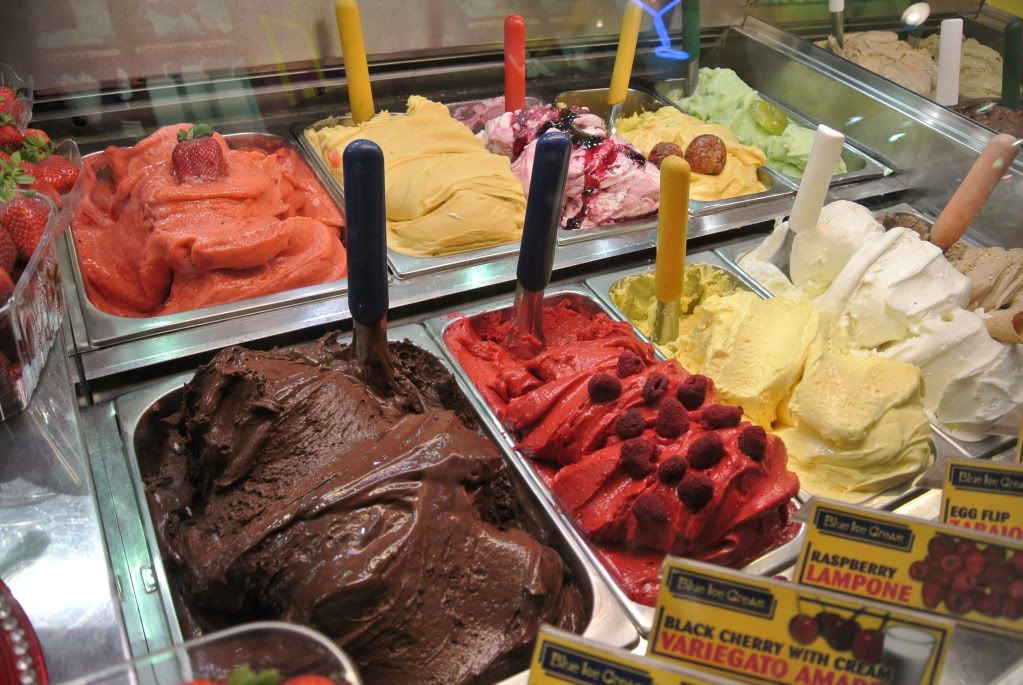 Gelato! You can't go to Italy and not have gelato! The gelato in Italy is very creamy and flavourful. It's not very icy like the gelato I've had back home. There's pretty much a gelato store wherever you go in Italy and it's relatively cheap - 2 Euros per cone with two flavours!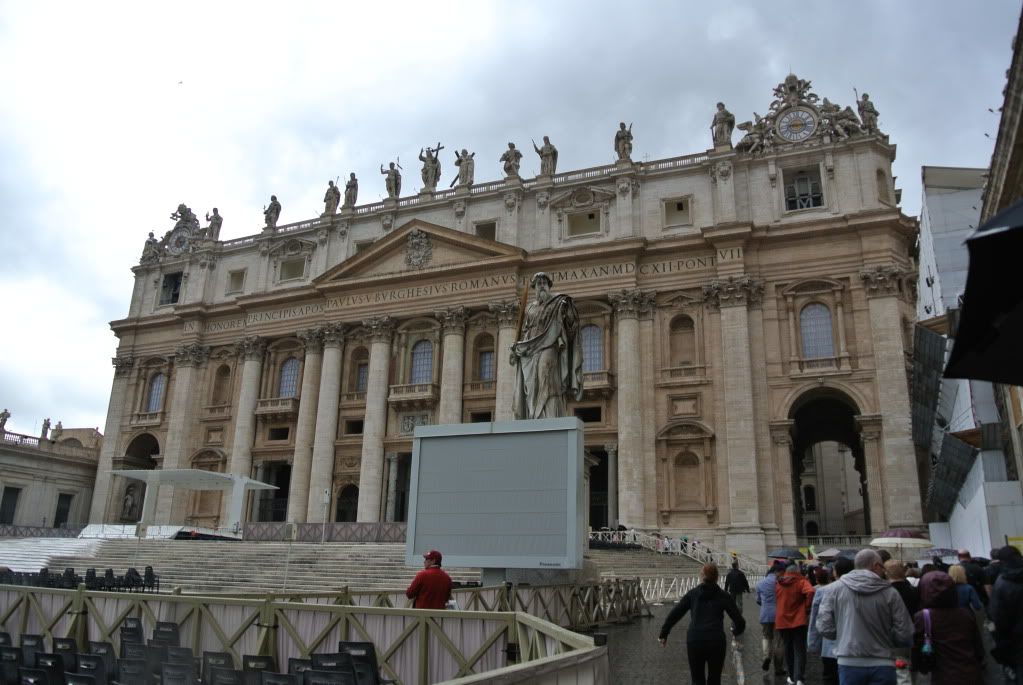 Entrance in to St. Peter's Basilica.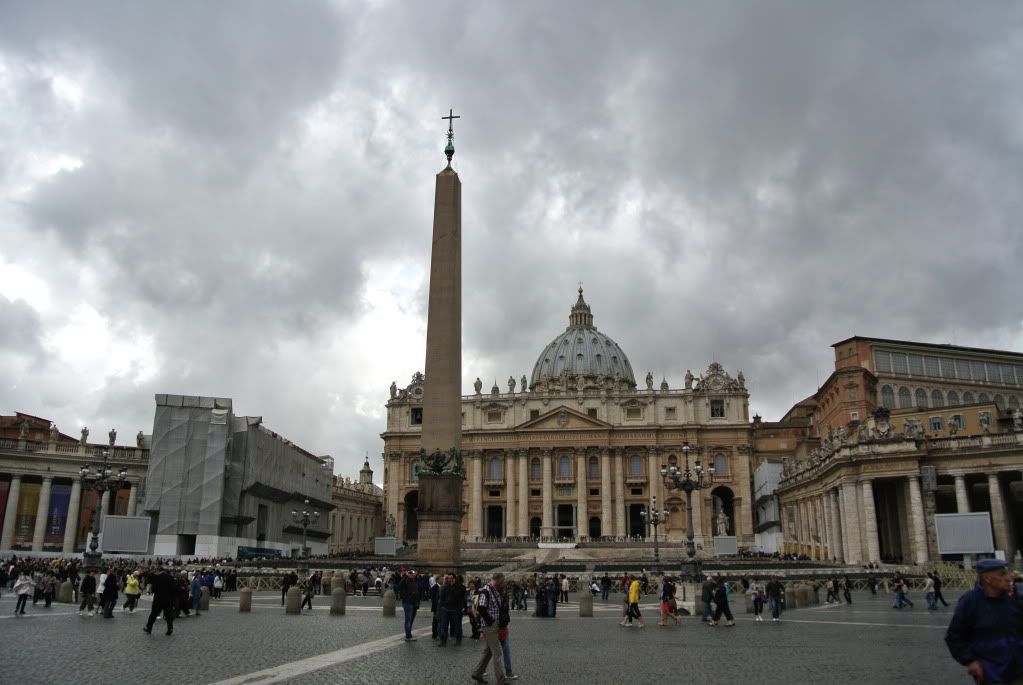 Larger view of St. Peter's.
The doors into the church! It's an amazing church with amazing history. You should definitely go in with a tour guide so they can point out all the historical value of everything inside. Going by yourself, you're going to miss out on a whole new experience!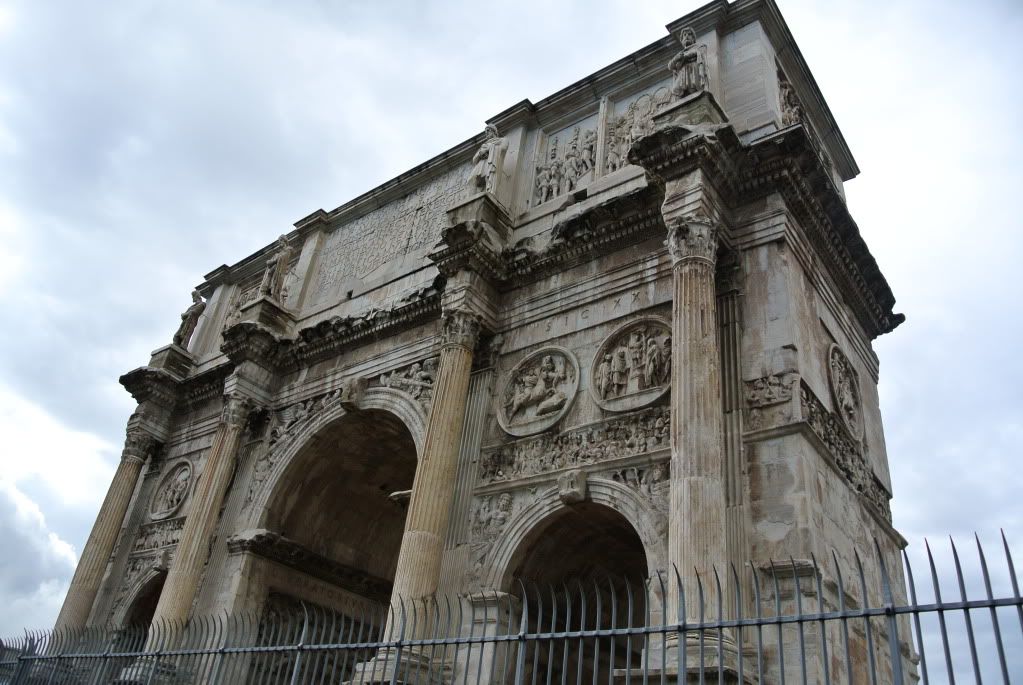 Arc di Triomphe. The original one that the one in Paris is modelled after.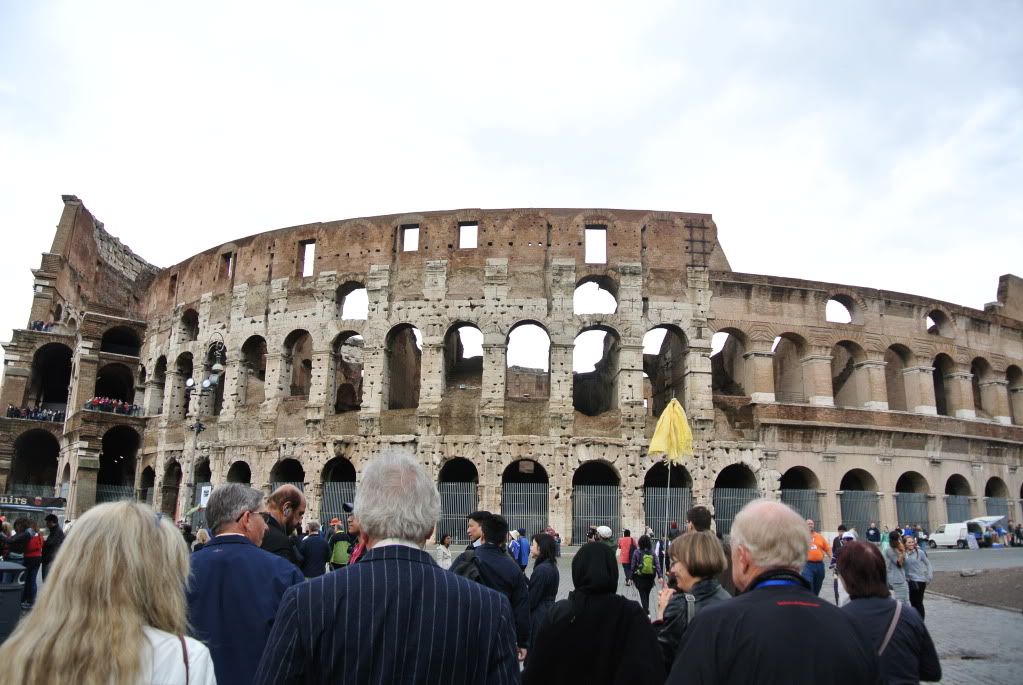 The Coliseum! It's amazing to think after so many years of history it still remains!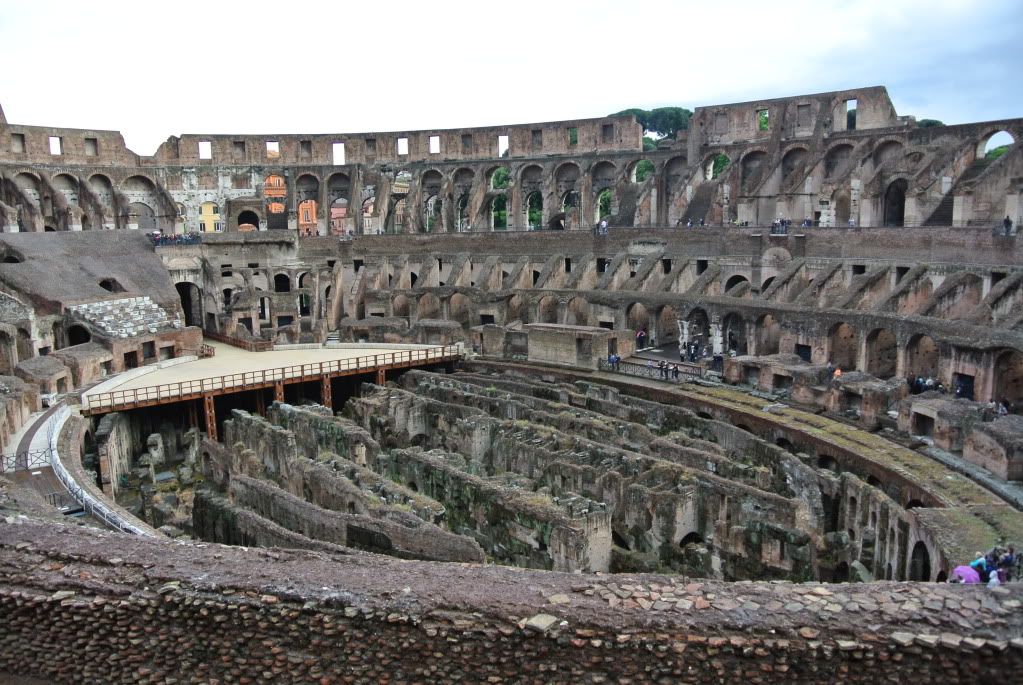 The inside of the Coliseum! You can see all the mazes and cells underneath the main stage. The main stage was made out of wood so the original no longer exist. However, a modern interpretation of the wooden floor has been built so you have an idea how it works.
Piazza de Navona! It's really beautiful square where all the artists of Rome cluster to sell and show off their art!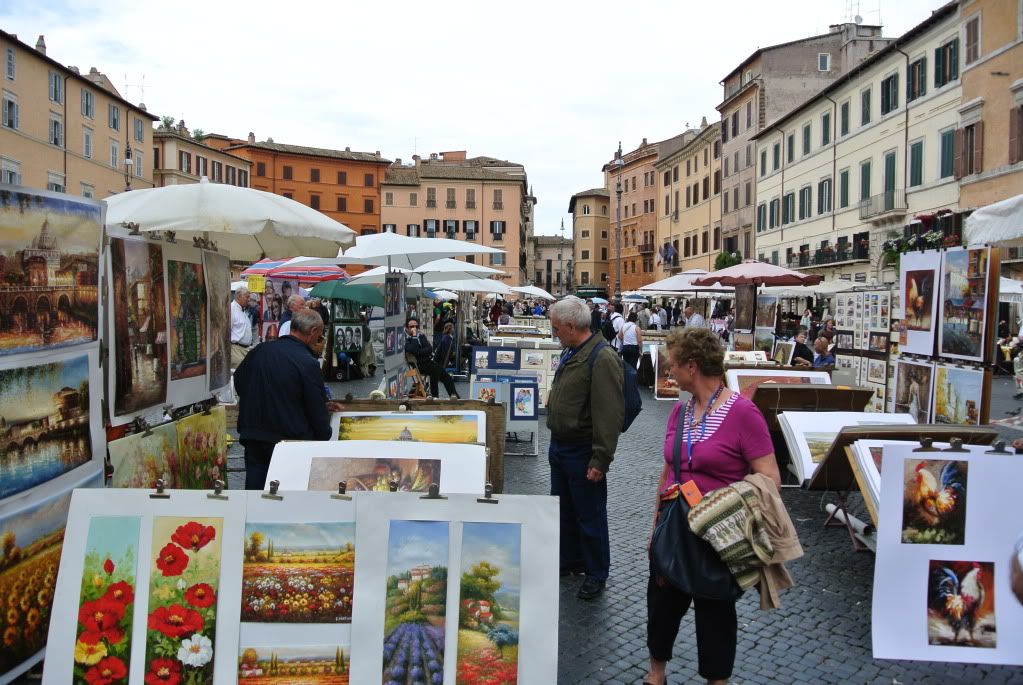 Original paintings for sale in Piazza de Navona.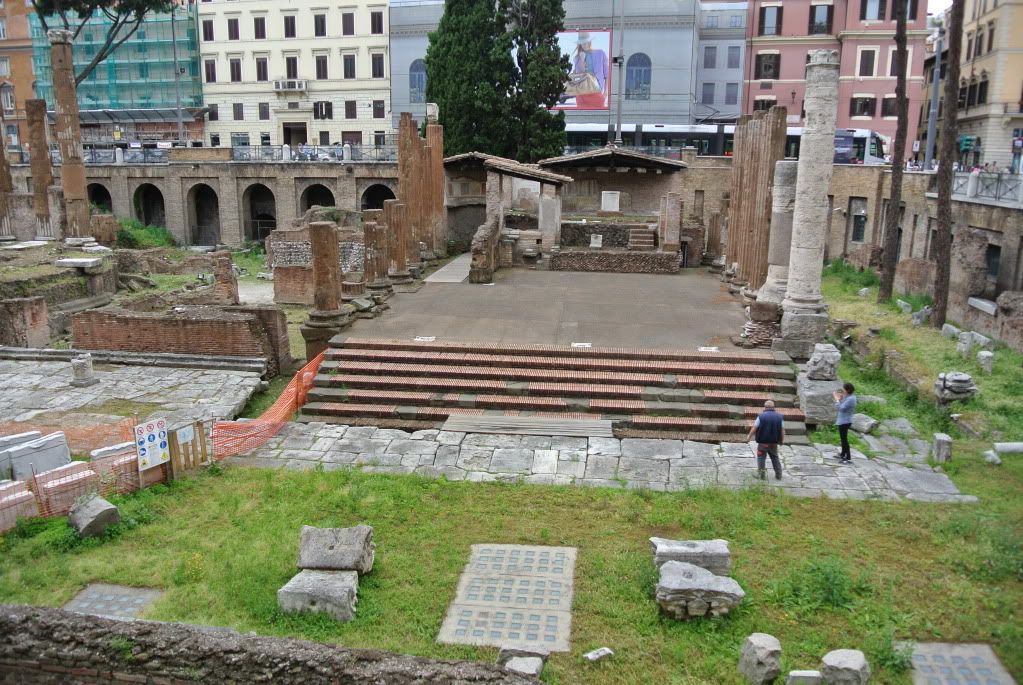 The site of where Julius Caesar was betrayed. Amazing that it's here right? It's so fascinating since something so old remains yet a whole new city has been built around it! Unfortunately, I was told by one of the locals that it is no longer recognized by local Romans as the site of Caesar's final moments, but instead as the stray cats hotel. All the stray cats in Rome live here! They are also cared for here. I saw 4 within the few minutes I was looking at the site.
Rome's City Square! Isn't it breathtaking! It's huge! The local's nicknamed the city center the "Wedding Cake" case it looks like one!
I hope you enjoyed this post!
Lots of love,
elle xx

PS: Stay tuned for more pictures from Florence, Milan, and my Italian Haul! :p